Pentatonix Performs Christmas Song 'Prayers For This World'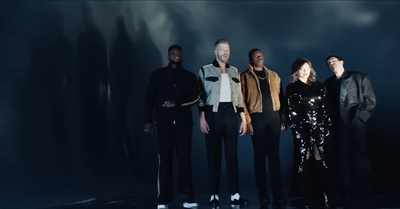 By from GodTube.com, Crosswalk.com
"These are hard times in these times, feels like the world's 'bout to capsize
Feels like it might take a miracle to make it out alive
The clock is tickin', what do we do?
Is someone listenin'? Help us through."
This talented group formed in 2011, but they shot to fame after winning the third season of the television show 'The Sing-Off.' Since that moment, Pentatonix has become a household name with viral performances such as 'Mary Did You Know,' 'Hallelujah,' and 'The Sound Of Silence.' Today, they're making a heartfelt plea with their newest a cappella Christmas song, 'Prayers For This World.'
"Prayers for this world, bring peace to it's doors
Bring hope to it's shores, we've got to change it
Prayers for this world, bring wind to it's sails
It's gone off the rails, we've got to save it."
On Instagram, the group shared their excitement about the new single. "We absolutely love the visuals in this one, and think it captures the song's meaning perfectly. It is one of our favorites off of the album, and we hope the world can find some comfort watching it, wherever you may be!"
You can find this song and more Christmas favorites on the newest Pentatonix album, Holidays Around The World, their eighth Christmas album.
Psalms 4:1 "Hear me when I call, O God of my righteousness: you have enlarged me when I was in distress; have mercy on me, and hear my prayer."
More from Pentatonix:
Pentatonix Performs A Cappella Rendition of 'Hallelujah'
Mary, Did You Know? - Pentatonix
'Away In A Manger' - Amazing A Cappella Christmas Hymn from Pentatonix
Pentatonix Performs 'The Sound of Silence'
Pentatonix Sings 'Amazing Grace (My Chains Are Gone)' A Cappella
Pentatonix Singing 'Hallelujah' Will Stun You
This content originally appeared at https://www.godtube.com/watch/?v=GD6KDLNX; used with permission.
Photo credit: ©GodTube/YouTube